Therapeutic agent for corns & calluses(Exfoliant)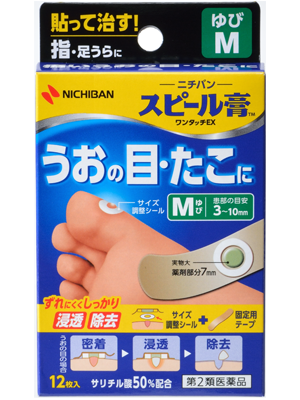 NICHIBAN

/SPEEL-KO™ One-touch EX(Sole M · Sole L, Finger M · Finger L)
| | |
| --- | --- |
| Country of origin | Japan  |
| Content | 12sheet  |
| Release date | since1931  |
| Price | ¥950+tax  |
| Category | Category 2 OTC drug  |
Product information
SPEEL-KO™One-touch EX is a dermatologic agent, using keratin softening and dissolution action of salicylic acid (exfoliant). It softens thick and stiff skin and removes corns, calluses, and warts. In addition,
the size is adjustable with the attached adjustment patch so that the agent is attached only to the affected spot. Secure the pad using the attached tape.
How to use
① If the radius of the affected area is 7mm or less, apply a skin protection sticker with the same size, or a slightly smaller, hole.
② Stick the medication pad firmly and directly over the skin protection sticker.
③ Secure the pad using the attached tape. Replace it with a fresh medication every 2-3 days.
④ Remove the whitened corneum using a pair of tweezers.